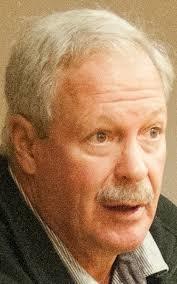 Colin Roy, One of the Top AD's in the Country
Mark Tinkham
Monday, January 22, 2018
Hall-Dale athletic director honored as one of nation's best
www.centralmaine.com/2017/12/09/hall-dale-athletic-director-honored-as-one-of-nations-best/ By Jason Pafundi December 9, 2017
FARMINGDALE — Colin Roy never wanted to be a high school athletic director, but after more than 40 years in education, including nearly three decades as an athletic administrator, he's being honored for being one of the country's best.
Roy, the retired-but-part-time athletic director at Hall-Dale High School and Middle School, was among eight athletic directors cited for their achievements by the National Federation of State High School Associations. Roy, 65, is expected to receive his award Monday during the 48th annual National Athletic Directors Conference in Phoenix.

Athletic director Colin Roy, top, talks to scoreboard operator Logan Dupont about how to operate the alternating possession arrow sign at the scorers table on stage in the Penny Gym on Tuesday at Hall-Dale High School in Farmingdale. Roy was explaining that he should wait until the after an inbounds pass is actually caught before hitting the switch and flipping the arrow. Staff photo by Joe Phelan
Search photos available for purchase: Photo Store → "Being an athletic director was not on my radar, and it wasn't something I aspired to be," Roy said during an interview Tuesday in his office. "I got hired here to coach in 1975, and my dream job was to come to Hall-Dale High School to coach football and teach."
Roy graduated from Hall-Dale and then from the University of Maine with a degree in physical education and health. He was hired to teach middle school social studies and did so for 14 years. The school needed an athletic director in 1989, and he was asked by then-Principal David Cannan to take the job.
"Colin was nervous and a bit apprehensive when I offered him the role of our athletic director along with an assistant principal position," Cannan said by email. "He still wonders and jokes to this day why I punished him with the assistant principal's role."
Roy left Hall-Dale in 1996 and became the full-time athletic director at Mt. Ararat High School in Topsham, and remained at the school for 16 years. While at Mt. Ararat, Roy was responsible for adding seven varsity athletic programs — including football — and 14 new teams.
2/5
"I feel pretty good about that, because I was blamed for the loss of football at Hall-Dale even though we were told what we had to cut," Roy said. "I'm still trying to find kids here the opportunity to play football."
As a full-time athletic director in at the Topsham school, Roy was working 80 hours per week some weeks, and his sole focus was on managing the athletic department. He said he doesn't think it's possible to be an athletic director and a coach. There's too much work.
After enjoying retirement for two years, Roy went back to Hall-Dale in 2014 and now serves as the school's athletic director in a part-time capacity. He says he still gets to school early in the morning and probably works 40 to 50 hours a week.
"I come to school early because I want to be in the hallways and meet the kids," he said. "That's the fun part for me."
Roy said he came out of retirement a few years ago to succeed Tim Johnson because he wanted to help improve the facilities at his home school. The school has put about $190,000 into projects to improve the outdoor athletic facilities, and it is currently working on the high school gymnasium, which Roy said will have a new floor next summer. It's also got a new public-address system and wireless scoreboard, a new stage and a different seating arrangement.
He was re-certified for only five years, so Roy said he'll be done for good at the end of next year. He wants to develop a reconstruction of the Hall-Dale track before he finishes his career.
One of the biggest changes in high school athletics since his career began, Roy said, is the opportunities available for students to play sports outside of their regular school season. There were no travel teams, and the Amateur Athletic Union wasn't as popular, Roy said.
"There were always youth sports, but there wasn't much at the high school level," Roy said. "There were more multi-sport kids than there are now."
Because students can play basketball for their school during the regular season and then on travel teams or in the leagues the rest of the year, there aren't as many students playing more than one sport. Roy said that is a detriment to the success of athletic programs, especially in a small school such as Hall-Dale.
"You want your good athletes in a sport each season," he said. "When you pull them away from a basketball team or baseball team, your success in the win column tends to go down."
At Hall-Dale and many other schools around Maine, there just aren't enough athletes playing each sport to field competitive teams.
"I don't think small schools can afford to have their athletes specializing," he said.
Mt. Ararat had appalling athletic facilities when he arrived, Roy said. The softball field had one backstop, most of the fields had wooden bleachers and no news media or ticket booths. There was no fencing on the baseball field and the field hockey field had nothing but grass.
3/5
The school was fortunate that the gate receipts collected from ticket sales throughout the year — $23,000 to $26,000 a year — was put into a special account just for facilities for the athletic program. Roy quickly developed a plan to reconstruct the athletic facilities, and he was thrilled with the results. His hard work paid off, Cannan said.
"He is dedicated to purpose, he knows and understands that athletics is the underpinning to a young person's future success, and he's always there to serve his coaches and athletes in any way that he can," Cannan said.
Roy traveled on Friday to Arizona and plans to play some golf and enjoy networking with fellow athletic directors from across the country during the conference. He was honored with the creation of the Colin A. Roy Award at Mt. Ararat, which is presented to a senior boy and girl who participates in three sports all four years of high school. And he created a $500 scholarship at Hall-Dale in honor of his parents, John and Clara Roy, which goes to needy Hallowell athletes.
"I've been happy where I've been," he said.
One of the best things about working at Hall-Dale is the relationship Roy has with the students and parents, some of whom he had when he was a teacher. He said his former students who now are parents of athletes at Hall-Dale give him instant credibility, and instead of screaming and hollering, they'll simply ask Roy about certain situations.
He remembered a soccer game with some unruly parents who he used to teach. Roy walked up to one man and told him the referee wanted the parent ejected, and Roy didn't want to do that.
"He put his arm around my shoulder, kissed me on the forehead and said 'Sorry, Mr. Roy, I won't do it again.'" Roy said.
Jason Pafundi — 621-5663