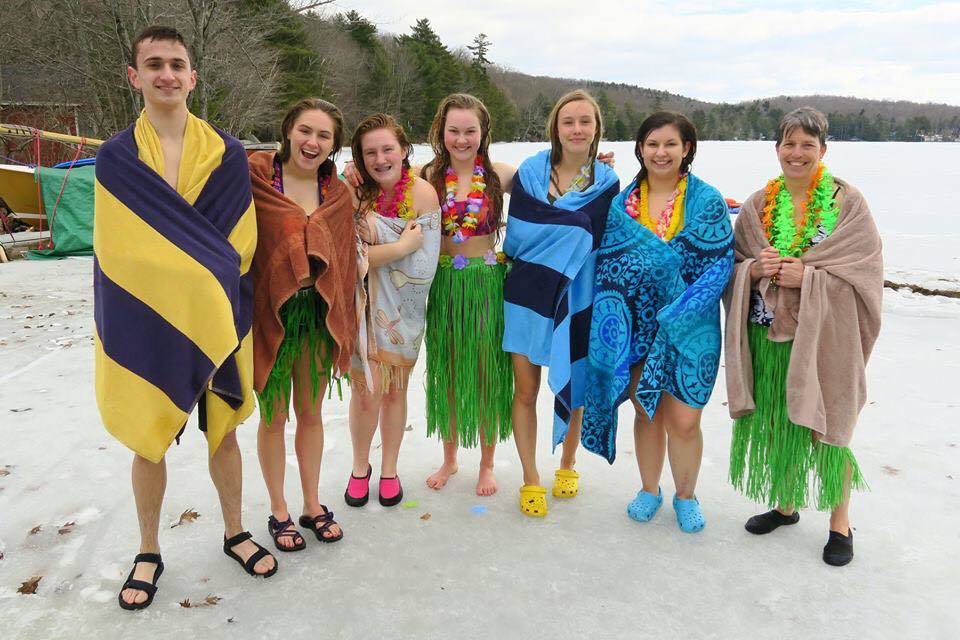 Hall-Dale Key Club takes the Plunge
Mark Tinkham
Sunday, February 25, 2018
DEDHAM, Maine (WABI) - It may be February, but a group of people lined up to jump into an ice cold lake in Dedham Saturday.
"It's energizing, really it is to think about what we are doing to send kids to camp," said Camp Sunshine Volunteer, Joe Dowling.
Folks in Dedham braved the chill of Phillips Lake for the Polar Dip to benefit Camp Capella.
"It takes your breath away, but the way I look at it is, we jump in the water, I jump in twice. I'm only in there for maybe 10 seconds each time," said Dowling. "I get in the hot tub and get warmed up and I'm over it in a few minutes. Kids with disabilities never get over their disabilities, and the kids with life-threatening illnesses, many don't live through it. So, for me to do this, and for the jumpers who do it, it's not a big deal."
The camp provides a safe place for children with disabilities.
Camp Director, Heidi Riggs says this is just one of the many fundraisers that help send kids to camp.
"In 2017, 58% of our campers couldn't pay anything towards their camp fees so, an event like this is really important to help those families send their kids to camp," said Riggs.
So, how was it?
"It was kind of shocking when I first got in there, and then getting in the hot tub it kinds of burnt. It was stinging a little bit, but I'm back to normal now," said polar plunger, Anthony Romano.
"I'm just getting ready to get out of the water actually," explained polar plunger, Sierra Millay. "I'm like, okay Sierra, jump in, get the ladder and go. It's cold."
Some say it's all about the challenge, and knowing that they are making a difference.
"It is terribly shocking to the system, but I think one person said to me ya know, you're cold for a few minutes but you're helping out a kid go to camp for the summer," explained Harvey Chesley of Camp Capella.
And no matter how cold the water may feel, it won't keep the polar dippers away.
"I think it's just the challenge of jumping through a whole in the ice, and proving that you can do it," said Riggs.