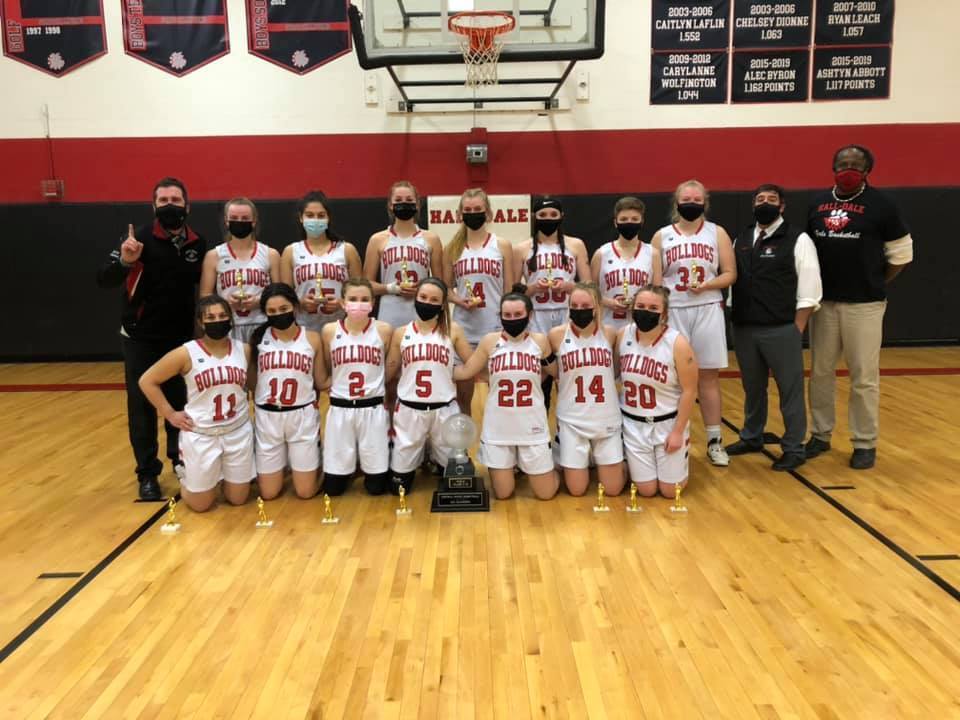 HD Girls win Kennebec Class C/D Tournament
Mark Tinkham
Wednesday, March 17, 2021
Girls basketball: Hall-Dale holds off furious Carrabec comeback to win Class C/D title
centralmaine.com/2021/03/12/girls-basketball-hall-dale-holds-off-furious-carrabec-comeback-to-win-class-c-d-title/ By Dave Dyer March 13, 2021
FARMINGDALE — It may not have been in front of thousands at the Augusta Civic Center, but location and crowd made no difference to the Hall-Dale girls basketball team.
It was a champion no matter what.
Thanks to a strong defensive effort in the first half, the Bulldogs were able to hold off a furious second half comeback by Carrabec and hold on for a 52-44 win at the Penny Gym on Friday night, capturing the Class C/D championship of the central Maine basketball tournament.
"It feels amazing," said Hall-Dale's Hayden Madore, who finished the game with a team-high 15 points. "Especially being our first (title) in a long time, it's great. We all just worked together and really played as a team."
Hall-Dale girls basketball players react during the Class C/D central Maine tournament championship game against Carrabec on Friday night in Farmingdale. Andy Molloy/Kennebec Journal
1/5
Defense and well-rounded scoring won the day for the Bulldogs. Hall-Dale forced 32 turnovers out of the Cobras — 17 in the first half alone — and had eight different scorers produce on offense.
"The defense early, smothering half-court, full-court defense, I just loved it, that's been an emphasis all year long," Hall-Dale head coach Jarod Richmond said. "I'm just really proud of the whole group."
Hall-Dale (9-6) cruised in the first, outscoring the Cobras 13-2 in the first quarter and 12-6 in the second to go into halftime with a comfortable 25-8 lead.
But the Cobras were far from finished.
Carrabec (11-3) slowly chipped away at the lead in the third quarter, leaning on the strong post play of forward Cheyenne Cahill, who would score 10 points in the third quarter alone. She would finish with a game-high 18 points to go along with 10 rebounds. A late 8-0 run by the Cobras made the score 35-23 at the end of the third quarter.
Hall-Dale's KJ Greenhalch pulls the ball away from Carrabec's Cheyenne Cahill during the Class C/D central Maine tournament championship game Friday night in Farmingdale. Andy Molloy/Kennebec Journal Buy this Photo
2/5
Cahill continued to add points down low, but had help on the outside from Courtney Rollins, who hit three 3-pointers in the fourth quarter. With just over three minutes left to play, Carrabec managed to shorten the deficit to four points, trailing 48-42.
"It was a pretty big hole, I didn't know if they'd be able to do it," Carrabec head coach Skip Rugh said. "They need to learn from it. Going into next year, they need to learn from it. They've still got one year left, most of them, and they've just got to learn from that. Hall-Dale played a hard-nosed, defensive game. We just didn't show up in the first half. I don't know why, I wish I could come up with it. But I have to give them credit, they battled hard to try to catch back up."
"Hats off to Carrabec, they're a tremendous ball club," Richmond said. "We knew they were a team of runs, and we had to get out early and sustain that lead through their attempts to get runs. We knew it was coming, it was only a matter of time before Cheyenne popped off. We just had built enough of a lead to withstand that."
3/5
Hall-Dale'a Averi Baker, right, and Carrabec's Julia Baker dive for a loose ball during the Class C/D central Maine tournament championship game Friday night in Farmingdale. Andy Molloy/Kennebec Journal Buy this Photo
Hall-Dale had offensive help in the fourth quarter from KK Wills, who scored all eight of her points in the period, including two late 3-pointers that were key to holding off the Carrabec comeback. The Bulldogs' offense was also aided by KJ Greenhalgh, who scored nine points, and Iris Ireland, who tallied eight points.
4/5
"We just kind of kept talking to each other," Madore said. "The bench was very encouraging as well. They really helped keep our heads in the game."
Rollins finished with 14 points and eight rebounds for the Cobras.
"We had dreams of getting to the Civic Center," Rugh said. "But to at least have (the central Maine tournament), it at least gives them that experience of what it's like. They went there last year, but they didn't really get the full experience. This whole week, this will help, I think, going into next year."
Dave Dyer – 621-5640 [email protected] Twitter: @Dave_Dyer Comments are not available on this story. « Previous
Girls basketball: Gardiner rallies past Lawrence to win central Maine A/B title Next »
Cheering: Bangor, Medomak Valley, Freeport and Monmouth Academy take home conference titles after virtual meets © 2021