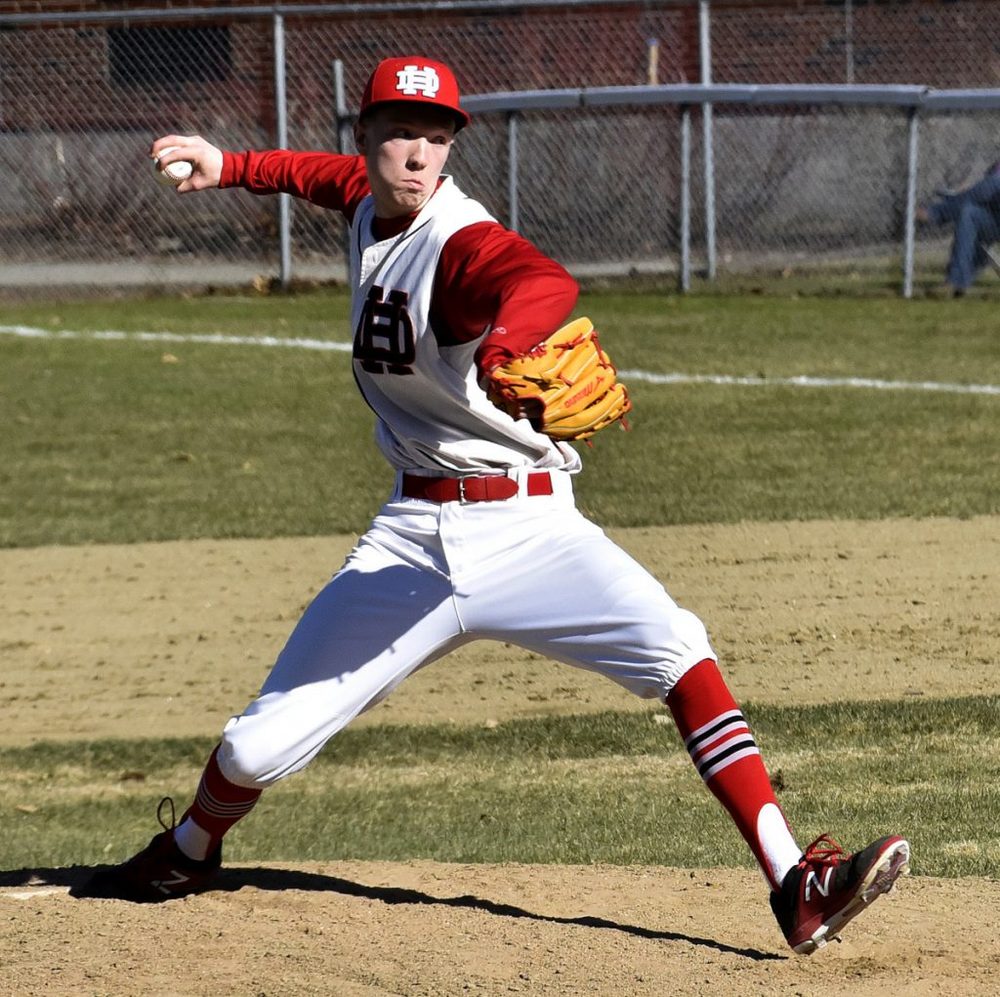 Hall-Dale baseball rolls past Bridgeway
Mark Tinkham (courtesy of KJ)
Tuesday, April 24, 2018
FARMINGDALE — It's not uncommon for a high school baseball team to struggle scoring runs early in the season as it adjusts from batting practice in the gym to live pitching. Then there's the Hall-Dale High School baseball team. The Bulldogs have 45 runs in two games, and look as if they've been playing for months.
"It's crazy. Everything's just popping off the bat, and we're getting base hits everywhere," Hall-Dale leadoff hitter Austin Stebbins said.
Monday afternoon, the Bulldogs had nine hits in just four innings, and also took advantage of six Bridgeway errors to take a 12-2 win in a game shortened to five innings due to the 10-run rule. Hall-Dale improved to 2-0, while Bridgeway dropped to 0-1.
"We're pleased with our effort today. It's been difficult up to this point in the season to get a good read as to where we're at. We haven't had many practices on the field. We haven't had many games on the field. To come out and play like we did today, all aspects of the game were fairly strong," Hall-Dale coach Bob Sinclair said.
The Bulldogs jumped ahead early. After Dean Jackman struck out the side in the top of the first inning, Hall-Dale staked Jackman to a seven-run lead in the bottom of the first. The big hit was Stebbins' bases-clearing double.
"Everyone's just really excited to get out on the baseball field," Stebbins, who had three hits and reached base four times, said. "I know we have a lot of potential this year, so we're all ready to swing the bats and just put the ball in play and score some runs."
While Hall-Dale hit well, it capitalized on the six Bandit errors for nine unearned runs.
"Errors. We need some time on the field," Bridgeway interim coach Rob Emery said.
A former assistant coach, Emery took over last week. Former Bridgeway head coach Scott Franzose stepped down early in the preseason, citing personal reasons.
"I just picked these guys up last Friday. We'll deal with it. I know all these boys. They've had a little bit of a roller coaster," Emery said.
Akira Warren had two hits and scored a pair of runs for Hall-Dale. Logan Dupont also scored a pair of runs for the Bulldogs.
Jackman earned the win, allowing two runs on six hits, with no walks and nine strikeouts. Bridgeway scored one run in the second inning. Evan Bess led off with a triple and scored on Dylan Willette's groundout. The Bandits added a run in the top of the fifth, when Jacob Atwood scored on Zach Belanger's RBI single.
Travis Lazarczyk — 861-9242