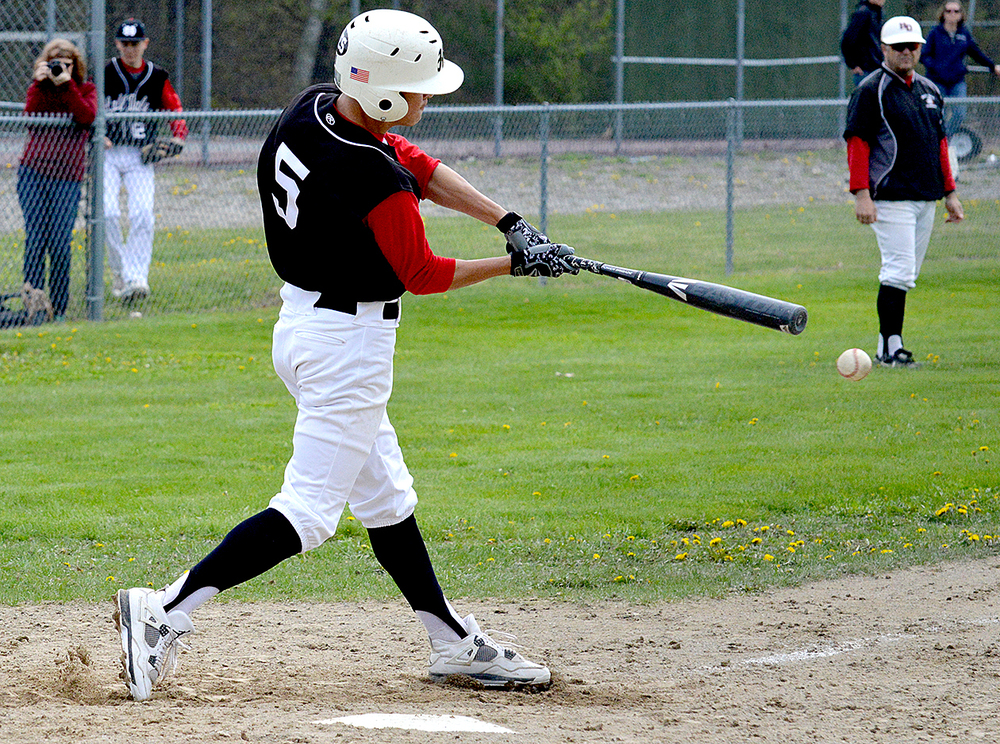 Stebbins thriving as 'sparkplug' for undefeated Hall-Dale baseball team
Mark Tinkham (courtesy of the KJ)
Sunday, May 20, 2018
FARMINGDALE — Austin Stebbins isn't afraid of strike one. And he isn't fazed by strike two.

Neither are his teammates. Not anymore. Not when they see who's at the plate.
"Leading off, he usually gets down 0-2 in the count, then he finds a way to work up the count and gets on every time, just about," Hall-Dale pitcher and first baseman Cole Lockhart said. "It starts with him, really. Leading off and getting us going. … He's huge to this team."
In a season in which everything has been going right for the undefeated Bulldogs, few pieces to the attack have been as impressive as the one getting Hall-Dale's Mountain Valley Conference and Class C South-leading show started. There are big bats throughout the Bulldogs lineup, strong arms throughout the rotation, fine fielders scattered throughout the diamond. But it's Stebbins whom coach Bob Sinclair has called the team's "sparkplug," and whose versatile game has helped lift Hall-Dale to status as the region's developing playoff favorite.
"He ignites a team," Sinclair said. "When he's up to the plate, the team knows something exciting is going to happen because he's that type of a ballplayer. … We have confidence that he's going to find ways to get on base and set the tone for the game."
This season, that confidence has almost always been rewarded. He's batting .511 with a .566 on-base percentage, with 23 runs and 20 RBIs in 12 games. He's stolen 12 bases in 13 attempts, and notched multiple hits in eight of 12 contests. He's batting .600 against teams with winning records.
"Just from the start, we knew we had something going on right here," said Stebbins, a junior. "I felt like I really needed to bring it this year and try to get on base. … It just feels really good that all the work has paid off and that all the guys, top to bottom, are just working hard, getting base hits and aiming toward that final goal."
He's been groomed for this for years. Baseball is big with the Stebbins family, with older brother Quentin playing at Hall-Dale before taking his career to Thomas College, and younger brother Ian playing for the Bulldogs this year as a freshman. Austin plays soccer and basketball too, but baseball is his love.
"Baseball's just been a huge part of our family," he said. "My dad always pushes us to be the best baseball players that we can be, and we're always sitting at home watching baseball on TV. … Just always growing up playing with my brothers and my parents, going through Little League to middle school to high school, there's always been that path."
Stebbins channeled that baseball passion into MVC All-Star status last season, but sought a challenge last summer to speed up his development even more. He had the option of playing American Legion at the junior level, but he tried out for the senior level to see how he would measure up. He made the team, joined up to face the tougher pitching, and ended up becoming Augusta's starting center fielder.
"Facing that tougher, top-class pitching definitely helped me," he said. "Coming into the MVC, I feel like I can hit almost anybody."
This spring, he's shown it. As a leadoff hitter, Stebbins's impact is magnified. He hardly ever strikes out — only three times so far — so he's often putting the ball in play and getting on base, and then quickly stealing second to reach scoring position. After only a handful of pitches, Stebbins can create a threat all by himself — and give the big bats of Jacob Brown, Alec Byron, Akira Warren and Lockhart regular RBI chances.
"He'll get on base and then he's a stealing threat, and immediately the (opponent) is in defensive mode," said Sinclair, whose team has scored in the first inning in nine of 12 games. "Just putting that pressure on other teams this year, we've been tremendously successful at scoring runs early on and winning the innings throughout the games."
Often, however, Stebbins can prove his value even before getting on base. A patient hitter, he rarely gets goaded into committing at poor pitches, instead fouling off strikes until he gets the pitch he's looking for. And with two strikes, a neutralizing situation for any good hitter, Stebbins is just as dangerous.
"He is one of the best two-strike hitters that I have ever coached. … It doesn't seem to bother him at all," Sinclair said. "He often makes the starting pitcher throw four-to-six pitches and then gets a base hit. … The on-deck batter and the team, they (see) what's in the opposing pitcher's arsenal and what to expect."
"I feel like I've improved my plate presence a lot," Stebbins said. "I just know that's very important, to get on base, because that just starts a rally for us."
Offense is only part of Stebbins's game, however. He's a smooth and instinctive fielder in center, able to translate his speed into range and showing a knack for stealing base hits.
"Often times balls are hit in the gap and the other team gets excited because they think it's in there for extra bases," Sinclair said, "and he'll make a spectacular catch or he'll turn it into a routine catch. That's a little demoralizing for the other team."
Lockhart, one of the team's top starters, has learned to stop worrying when he sees the ball headed to center field.
"When the ball's hit out there, I actually kind of turn my head," he said. "Like, 'Yep, he's got that.'"
Stebbins has worked to make sure of it.
"He comes to practice day-in and day-out looking for ways to make him a better ballplayer," Sinclair said. "That's impressive, to get a ballplayer who's already gifted in his athletic ability, but at the same time has a desire to become better."
Drew Bonifant — 621-5638