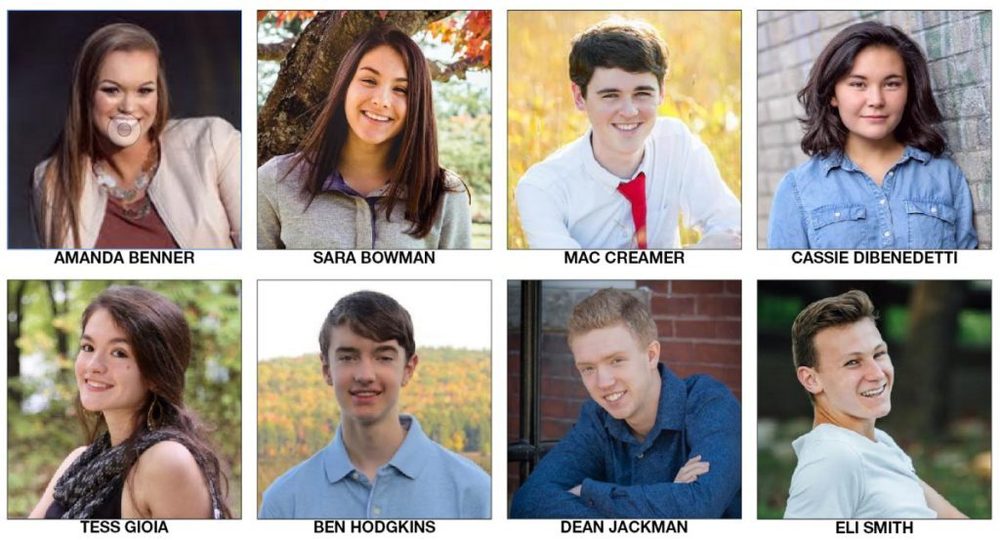 Hall-Dale High School lists top summa cum laude students for 2018
Mark Tinkham
Friday, June 01, 2018
Amanda Benner, the daughter of Lisa and Stephen Benner, of Farmingdale, is an exceptional scholar, athlete and all around person. Benner, along with being a four-year honor student, is very active in her church. This past summer, she spent two weeks in Rwanda for a mission trip. Her experience moved her as the focus of her senior capstone project was on the Rwandan genocide. It is evident that she is a leader as was demonstrated by her being president of National Honor Society, a two-year captain of basketball, captain of softball and being actively involved in both the Big Buddy and Youth Group programs. She also is well known in the music realm, taking part in the All-State Honors Music Festival and District 3 Honors Festival, and being selected for the National School Choral Award. Benner plans to attend Gordon College and major in kinesiology on a pre-physician track.
Lindsay Bowman is the daughter of Adam and Barbara Bowman, of Hallowell. She has participated in math team, Spanish Club, and college courses and has a strong interest in computer science. In the fall she plans to attend Rochester Institute of Technology and major in game design and development. Bowman chose to not have a photo included in this listing.
Sara Bowman, the daughter of Adam and Barbara Bowman, of Hallowell, is an accomplished gymnast. She has been involved in competitive gymnastics for eight years and has competed in meets throughout New England. She was the 2015 Junior Olympic State Bars and Floor Champion, and in 2016 and 17, she won the championship at the high school state meet for vault, floor and beam, and she was all-around champion for '16. Her passion for gymnastics runs deep as she volunteers at local meets and helps coach the younger students. Bowman was actively involved in National Honor Society and was awarded the Clarkson University Book Award. She plans to attend American University and major in political science.
Mackenzie Creamer, the son of Kari Creamer, of Farmingdale, and Kenneth Creamer, of Florida, exemplifies the qualities of a true scholar. Creamer is inquisitive and enjoys learning for the opportunity to discuss politics, philosophy or anything that includes debate. As a junior, he observed that some seniors needed financial support to fund their capstone proposal. He crafted a plan to start a coffee cart business in school and donated the funds to support seniors and their capstone projects. Creamer's debate skills helped through the project proposal. He was the 2018 recipient of the MPA Principal's Award, was a silver medalist in Academic Decathlon, and is captain of the tennis team. He was also an integral member of the Robotics team, math team, and National Honor Society. He also was recognized for the George Eastman Young Leaders Award. Creamer plans to attend the University of Maine and study computer engineering.
Cassie DiBenedetti, the daughter of Carina Weston, of West Gardiner, and Tim DiBenedetti, of Chelsea, has been involved in numerous activities and contributed to the school and community in many ways. She has been a varsity member of the cross country and track and field teams. Her passion is politics, and she was a founding member of the Young Republicans Club and went on to represent Hall-Dale at the Dirigo Girls State program, where she won the Outstanding Performance Award. She was also the recipient of the Wellesley Book Award. Because she cares about giving back to the community — both the school and the greater Hall-Dale community — she was involved in student government, Key Club and the National Honor Society. DiBenedetti was a regular at sporting events, whether it be singing the National Anthem or announcing the game. During her senior year, she discovered that her goal is to work with sports media. She had the opportunity to shadow at Dartmouth College as well as multiple high school events. She will continue to reach her goal by attending Duquesne University and majoring in sports media and information.
Tess Gioia, the daughter of Donna and James Gioia, of Farmingdale, is perhaps best known around Hall-Dale for her harmonious vocals and musical talents. She was a constant at sporting events singing the National Anthem. A member of the Jazz Choir Acapella, she received awards at Berklee for both jazz band and jazz choir. She also came home with the Louis Armstrong Award. When not singing, Gioia, as captain of the Taiko Drumming group, would be playing the Japanese drums at local events, including diversity day and cultural celebrations. Gioia, as a two-year captain, is a regular on the cross country circuit and track, being awarded multiple ribbons and MVC awards. As a member of National Honor Society, she tutors in the middle school, provides saxophone lessons, and supported the Turkey Trot road race. She was the recipient of the Williams College Book Award. In the fall Gioia plans to attend the University of Maine at Farmington.
Benjamin Hodgkins is the son of Sara and Glen Hodgkins, of Hallowell. He has distinguished himself as one of the STEM leaders in the school. Hodgkins, as captain, has been a constant on the Robotics Team and leads them into competitions throughout New England. Teachers always are excited when he joins the math and Academic Decathlon teams. He was captain of both. Hodgkins also earned gold medals this year in the Academic Decathlon State Competition. As captain of the tennis team, he also can be seen volleying the ball on the court. He has earned All Academic Honors for the MVC and was awarded the Rensselaer Medal and RIT Book Award. Hodgkins plans to attend the University of Southern Maine to study computer science.
Dean Jackman is the son of Kathryn and Robby Pelotte, of Hallowell. He is an exemplary model of a student athlete. Not only is he a dedicated academician but is also a stellar athlete. He has been part of a MVC Championship baseball team and MVC and Southern Maine Championship basketball team. He is currently captain of the baseball team and will be playing for another MVC title. His talents extend beyond the court and fields and into the musical realm. He has been a member of Jazz Choir as a lead role and soloist, been awarded District Three Honors for four years, and been in both Classical All-State Mixed Choir and Jazz All State SATB Choir for four years. It is a true pleasure to listen to him as part of a barbershop quartet. Jackman plans to attend Thomas College to study business management as part of the 3 and 1 program to graduate with a masters in business administration.
Elijah Smith is the son of Diane and Don Smith, of Farmingdale. He is a creative student who has excelled academically and has grown athletically and musically over the past four years. He captained the soccer team to a Mountain Valley Conference Championship his senior year and was part of a championship his sophomore year. He also plays soccer for Central Maine United. Smith also captains the track and field team. He is a friend to many and is a student coach of the unified basketball team. He also is actively involved in Key Club, is an officer in student government, and is in National Honor Society. As part of the Jazz Choir, Smith has represented Hall-Dale at multiple festivals and has won awards at both District and All-State. His musical talents have been showcased since he was a ninth-grader. Smith plans to attend the University of Maine to major in athletic training.