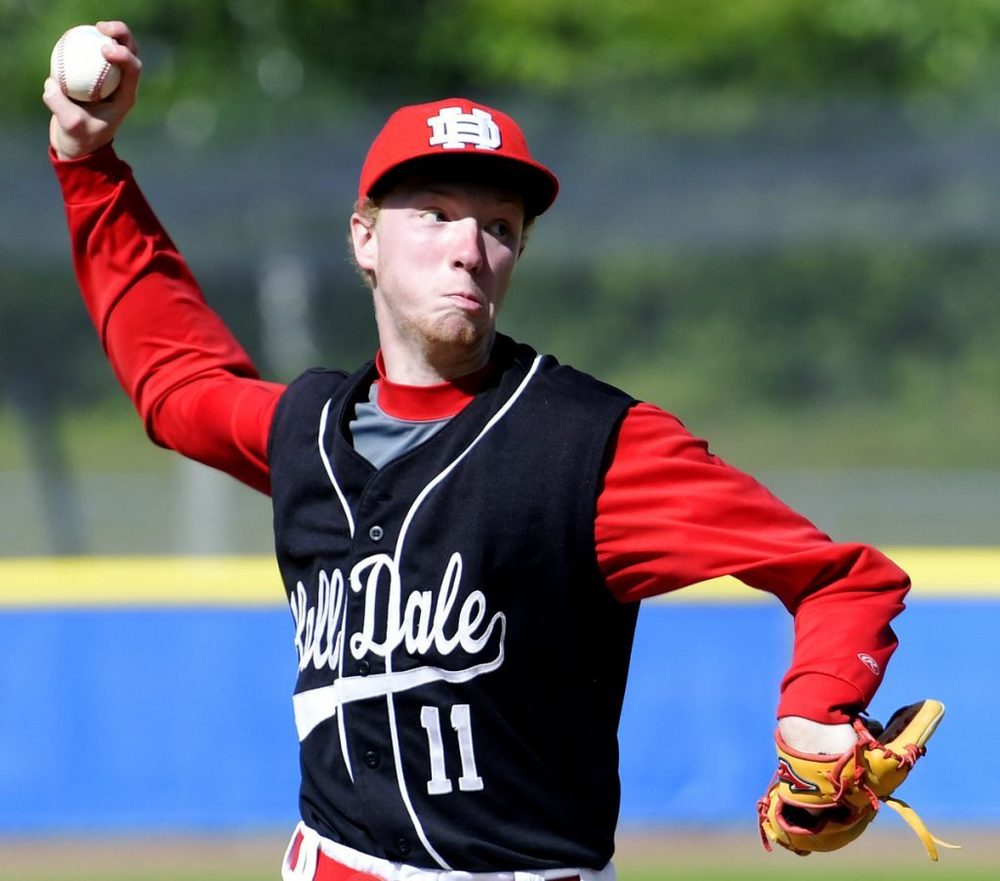 Hall-Dale earns berth to State Championship
Mark Tinkham
Tuesday, June 12, 2018
STANDISH — If Hall-Dale Coach Bob Sinclair was nervous going into the Class C South baseball final, it didn't extend to his feelings about the guy he was putting on the mound.
"He's a big-time pitcher," Sinclair said of Dean Jackman. "The bigger the games, the better he becomes."
Jackman, a senior captain, twirled a three-hit shutout to lead the top-seeded Bulldogs to the regional championship with a 4-0 victory over No. 3 Maranacook Tuesday at St. Joseph's College.
Hall-Dale (18-1) will play for its first state title since 2001. All Jackman wanted to do was give his team that chance.
"I just wanted to go to states. I wanted to give the team the win, so I knew I had to do my best and give my team everything I had," he said. "Since the beginning, all we've wanted to do is prove that we belong here. We didn't want it given to us. We wanted to be here because we earned it. That's the greatest feeling, knowing we deserved to be here."
Jackman got all the support he needed during a four-run fifth inning that featured a tiebreaking single from Austin Stebbins. Tim Cookson, Logan Dupont, Stebbins and Jackman scored the runs.
"I was a little bit speechless talking to the kids out there after the game," Sinclair said. "That's always been a goal of ours, since I took over coaching the program. I wanted to get that road to St. Joe's and play in a state championship (game), and I couldn't ask for a better team to bring us to that moment."
Avery Beckwith, Jarred Schmidt and Aric Belanger each had a single for Maranacook (15-4), who reached the regional final after going 6-10 a season ago.
"I told them, surround yourself with people like we had this year," Coach Eric Brown said. "The chemistry, the camaraderie, the family atmosphere. You have those kind of people you're going to be successful."
PLAYER OF THE GAME: Jackman was locked in from the first pitch.
The lean right-hander started strong and finished stronger, striking out four in the last two innings. He struck out nine.
"He hit his spots, he mixed up his pitches real well, he had an above-average fastball today," Brown said. "It was hard to hit."
Jackman threw 95 pitches – the limit to remain eligible to pitch Saturday.
"People can be their own worst enemy, and get in their own heads," said Jackman. "They can sort of overthink things and try to do too much. So what I tried to do today was go out and do what I can normally do."
RALLY TIME: Jackman was good, but so was Maranacook starter Dan Garand. The ace right-hander mowed down the Bulldogs in the first four innings, fanning four and allowing only two hits.
In the fifth, however, Cookson walked and Logan Dupont singled, putting runners at first and second. Garand got a pop-up, but Stebbins laced a 1-1 offering to center, scoring Cookson for the first run and chasing Garand from the game.
"Maintaining confidence is one of the biggest things," Stebbins said. "I saw a guy at second, saw it was still 0-0 and said 'I've got to get him in.' "
It was a breakthrough of sorts for Stebbins, who had an excellent regular season but was held to just one hit in playoff wins over Winthrop and Carrabec/Madison.
"He wasn't happy with a couple of games that he had, so he's just been working extra hard on his swing," Sinclair said. "We don't usually bring a batting tee with us to away games, but he made sure that batting tee was on the bus today."
The rally continued when Jacob Brown reached on an error that allowed Dupont to score. Stebbins came in when Alec Byron struck out swinging but reached on a wild pitch. Jackman drew a bases-loaded walk three batters later.
"Usually, that's what it is. When one ballplayer starts a rally, usually one hit leads to another," Sinclair said. "That's what happened today, and that's what's happened all season."
Coach Brown said he knew they were the types of miscues his Black Bears couldn't afford.
"We had a couple of mistakes, and they capitalized on them," he said. "That was the difference."
DEFENSE STEPS UP: Maranacook threatened first, putting two runners on in the third when Beckwith and Belanger singled with one out, but shortstop Alec Byron turned a smooth 6-3 double play on a Jackson McPhedran grounder.
It was a theme all afternoon. When the Black Bears did put the ball in play, Hall-Dale was ready to make the play.
"They had my back," Jackman said. "Early on they were hitting the ball, they were getting on base a couple of times. But then after that play Byron made, everybody in the dugout got excited. The energy was just high-flying."
"We knew going in, if we could play that type of defense, we'd have a real good opportunity to win this ballgame," Sinclair said.
DREAM SEASON: The disappointment was tangible as the Maranacook players returned to the dugout after the last out, but the Black Bears still had the perspective to reflect on what they had accomplished during a season that resulted in a Kennebec Valley Athletic Conference Class B championship.
"This team is amazing. I love these boys," Beckwith said. "We all pulled together after last season, we just worked harder at the beginning of the season, just so we could get here."