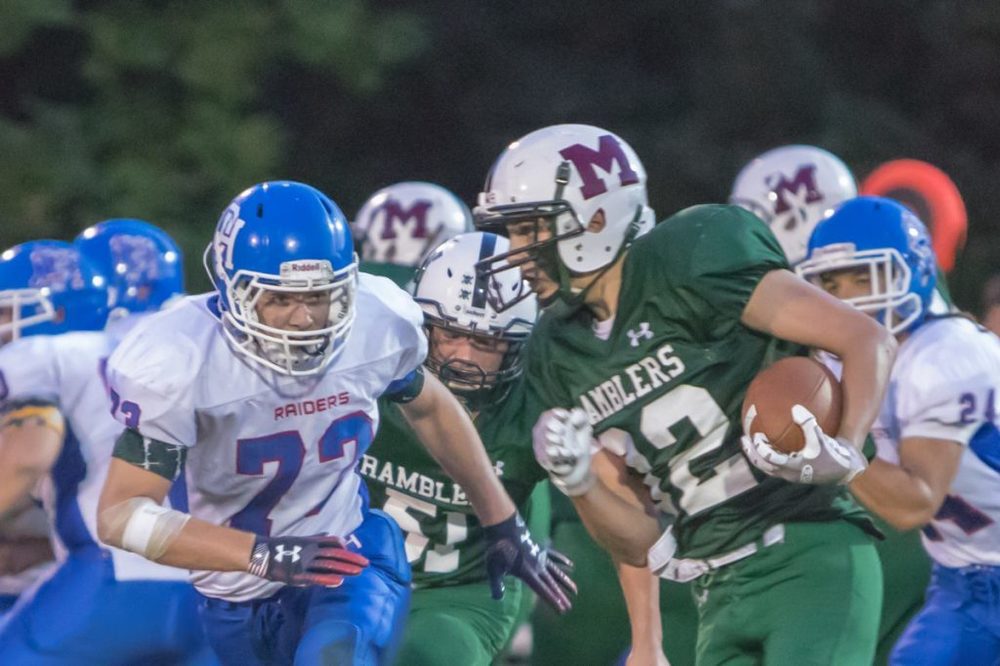 High school football notebook: Winthrop/Monmouth/Hall-Dale makes strides despite loss to Wells
Mark Tinkham
Tuesday, September 18, 2018
Dave St. Hilaire didn't call it a moral victory. The Winthrop/Monmouth/Hall-Dale football coach didn't go that far.
But St. Hilaire knew there were good signs in the Ramblers' 36-18 loss to Wells Friday night.
There are no moral victories," he said, "but we were happy with the effort and, for the most part, the execution. It definitely set the tone for the rest of this season for us."
Start with the score. The defending champion Warriors have been a juggernaut since moving down to Class D last season, they thumped Class C contender Cape Elizabeth 40-14 the week before, and all signs indicated a rough game Friday for the visiting Ramblers. But Winthrop/Monmouth/Hall-Dale didn't buckle, taking leads of 6-0 and 12-7 and hanging with the Wells powerhouse.
If the Ramblers were supposed to be just another speed bump for the Warriors, they didn't get the message.
"We were confident. We stressed all week, we were going down to win a football game," St. Hilaire said. "We weren't intimidated whatsoever. … We prepped the kids for it, but we stressed we will not be intimidated and we cannot play that way at all."
There was a sharp focus throughout the game, and it started before the opening kickoff. The Ramblers normally gather in the end zone to be introduced, but on Friday, they were on the sideline in the moments leading up to the start of the game.
To St. Hilaire, it was a message.
"It was like 'We're ready to go, let's go,' " he said. "It was good to see that they were ready."
The upset bid lasted deep into the second half. Trailing 30-18, the Ramblers worked their way deep into Wells territory, and quarterback Keegan Choate just missed connecting on a touchdown pass that would have made it a one-score game with five minutes left.
Instead, the Ramblers were kept off the board, and Wells scored again to ice it.
"We were right there, there were just some things we could have done differently," St. Hilaire said.
The Ramblers needed to do more to beat Wells, but they did enough to prove they can be a Class D competitor going forward. Choate ran for 94 yards and threw for 190 more, and Winthrop/Monmouth/Hall-Dale churned out 335 yards against the best defense in Class D.
It wasn't a win. But St. Hilaire saw more than a team lose a game.
"I saw a lot of good things Friday night," he said. "We can move the ball against, obviously, some good defenses."