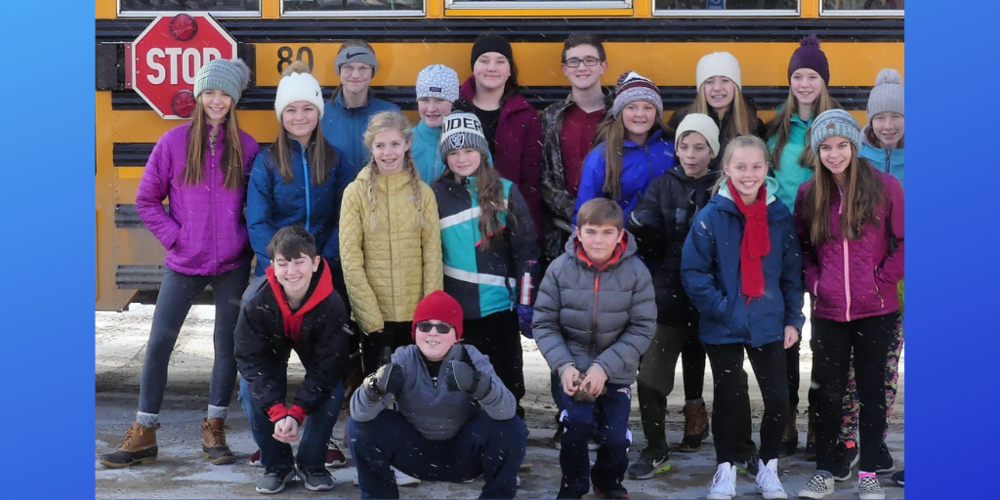 December Newsletter
Mel Burnham Barter
Thursday, December 27, 2018
MMS Photo of the Week
We celebrate the hard work of our Stuff the Bus crew of students - WELL DONE to lead the charge of collecting and delivering the 2,967 nonperishable food items that were donated by MMS students, their families, and other Monmouth community members. A special thank you to MMS staff members Mrs. Howker and Mrs. Fortin for their dedication in continuing this special tradition, and to the many hardworking, kind individuals involved with the Cottrell-Taylor Committee. We are lucky to have you!
Newsletter Update
We wish the happiest of holidays to all of our MMS students and families! Starting in the new year, we are going to begin transitioning from the weekly MMS newsletter to regular use of the MMS webpage:
This will allow us to communicate with our families in real time, as opposed to once a week. The webpage features a SmartPhone app that will allow you to subscribe to our live feed updates to be delivered directly to your phone. To find the app, search your App Store for RSU2 Maine. That's RSU2 with no space.
We will still provide the same calendar and event information, department updates, and weekly photos that you've found in our newsletters. Please pardon the look of the MMS webpage as we adjust to our new system. We will be communicating to let you know when we will switch over entirely. We are hoping to have everything up and running by the first of February.
Office Reminders
Change in Charging Procedure for Breakfast & Lunch
As of November 26th, School Nutrition has implemented a change in their charging procedure. If your child owes $10.00 or more, they will be given a Wowbutter & Jelly Sandwich and a Milk for Lunch and a Cereal and a milk for Breakfast until their debt is paid in full. Middle/High Schools will not be able to charge for Ala Carte items as well.
Free/Reduced forms are available at your child's office or by contacting me at cmichaud@kidsrsu.org or 207-622-6351 ext. 498. I will also make myself available to anyone who needs assistance filling the forms out. They are very confidential as I am the only one who sees them for processing. They can be sent to me through email or directly at RSU 2 Central Office, 7 Reed St. Hallowell, ME 04347.
I also encourage parents to sign up for account access through www.myschoolbucks.com. They will be able to see what their child eats, what is on the account for funds, set up alerts for when funds are low, or they can put money directly into the account on-line if you so chose. There is a fee, however, this year there is an option for a one time only annual fee. Even if you chose not to add funds online, set up the account anyway for access to charges and alerts for your convenience. Thank you all for your cooperation.
Respectfully,
Chrissy Michaud
RSU 2 Food Service Director
2018 Stuff the Bus Food Drive for Cottrell-Taylor Christmas Baskets!
Final counts are in!
The standings are as follows:
5th Place - Grade 6
4th Place - Grade 5
3rd Place - Grade 7
2nd Place - Grade 4
1st Place - Grade 8 - winner of the Fielder's Choice ice cream party!
Through the generosity of the students and community members, we collected a total of 2,967 items! Thank you for your support!
PTO News & Information
Shopping Fundraiser!
Your shopping matters. This Holiday season, shop for your loved ones at smile.amazon.com/ch/81-3700801 and Amazon will donate a percentage of your sales to the Monmouth Parent Teacher Organization. Happy shopping!
Community Events
Yuletide in a Yurt
Holiday Fare from Local Artisans & Producers
November 23-December 23
Fridays, Saturdays and Sundays
10:00am - 4:00pm
Vintage & Collectibles
319 Norris Hill Rd, Monmouth
Phone: 632-3115
Facebook: Yuletide in a Yurt
Monmouth Recreation Downhill Skiing at Lost Valley
Dates: Every Friday from 1/11/19 - 2/15/19 Times: 6:00-7:15 PM Ages: 7 and up Location: Lost Valley, Auburn, ME Cost: See options online at https://campscui.active.com/orgs/LostValleyManagementLLC#/selectSessions/2410902/filter/session=38447002
Register directly with Lost Valley using this link or you can call or email Tad directly at: 207-784-1561 or tad@lostvalleyski.com Transportation is not provided.
Monmouth Recreation Nordic Skiing
Lean to ski in a fun atmosphere, including on-snow games that teach the basics of classic and skate skiing, balance development, and movement on skis.
When: Sundays from January 6th-February 10th, 2019
K-2nd grade: 1:00-2:00pm
3rd-5th & 6th-8th grade: 1:00-2:45pm
Location: Ski trails and athletic fields at Monmouth Academy
Cost: $40 (not including equipment rental)
Equipment: $65 for rental for the season Rental Equipment signup will be on Wednesday, November 28th at 6:00pm in the Library at HLC FMI: Chris Bryant (933-3204 or chris.bryant@usa.net) or Christina Steenstra (933-2997 or chrislsteenstra@gmail.com) Forms are available in the MMS Office
Monmouth Recreation Cheerleading
Open to all Monmouth Students in Grades K-5
Sundays at Monmouth Academy November 18th - February 3rd
Grades K-2: 2:00-3:00pm
Grades 3-5: 3:00-4:30pm
$40 Registration Fee
FMI: Leanne Burnham at lburnham@kentshill.org or 576-7306. Forms are available in the MMS Office.
Cumston Public Library News
Cumston Public Library's play group is held most Tuesday mornings from 10 a.m. until noon. Join us for creative fun, crafts, stories, songs, and more! The group provides parents, caregivers and children time to learn and play together in an informal setting, plus it's a great way to make new friends. The lower level program room is accessible by elevator from the back parking lot of Cumston Hall. Call 933-4788 FMI or stop by for a schedule.