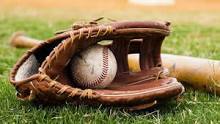 Baseball & Softball for Players Ages 8-12
Karen Beaudoin
Friday, March 01, 2019
Attention Baseball and Softball Players Ages 8 to 12:
2019 Registration and evaluations will be held on March 23rd at the Monmouth Academy Gym. Registration Forms will be going home the first week of March so be on the lookout. You must attend the appropriate Evaluation Session at the Monmouth Academy Gym on March 23rd if you are between the ages of 8 and 12.
March 23rd Player evaluation at the Academy Gym (bring glove/bat)
8:30 Baseball (ages 11-12)
9:30 Baseball (ages 8-10)
10:30 Softball(ages 11-12)
11:30 Softball (ages 8-10)
Please be sure to register early. We will not be accepting registrations after April 1st.
Questions please call Eric @ 415-6677 or email: monmouthyouthbaseballsoftball@gmail.com