EDIT MAIN
Did you know?
According to the National Highway Traffic Safety Administration (NHTSA), school buses are the safest form of transportation to and from school.
School buses meet 48 federal safety standards-more than any vehicle on the road
School buses are driven by professionals who undergo extensive pre service training, driving certification, and additional testing to ensure they can drive safely and protect students.
School buses replace 36 passenger cars thereby helping reduce traffic by keeping more than 17 million cars off the road in the U.S. each year.
School buses are becoming even safer, thanks to technological features such as stop arm cameras, student tracking and lane departure systems.
RSU 2 School buses traveled 315,135 miles last year transporting on average 1200-1400 students daily to and from school.
We have an amazing group of drivers that come to work everyday. They are dedicated, caring and professional.
As always thank you for your help and support transporting our most precious cargo!
Katie Spear, Transportation Director for Monmouth & Richmond
Jon Lambert, Transportation Director for Hall-Dale & Dresden
---
Bus Routes for 2022-2023
---
Bus safety is very important especially during Maine winters. Please click the image below for safety tips and the Maine law regarding school bus safety.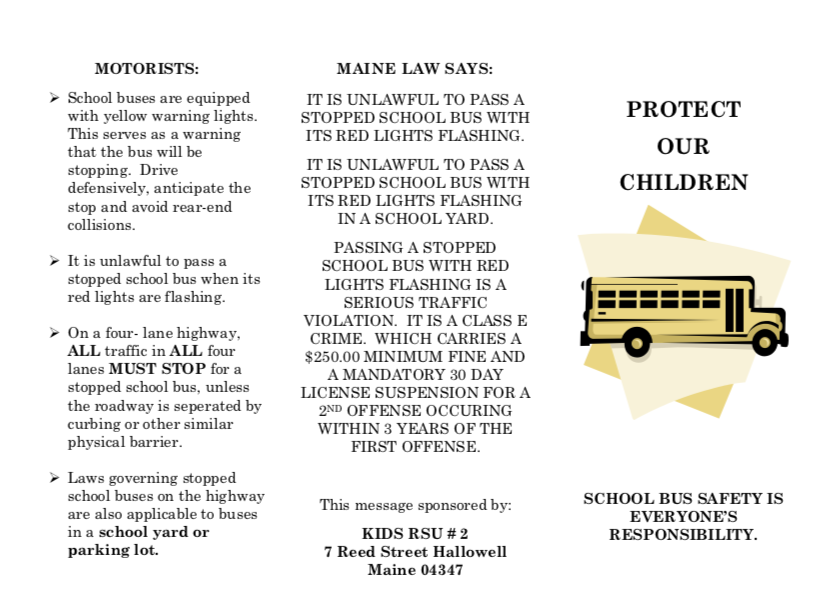 ---
Note to Richmond Parents and Day Care Facilities:
Please click to see the note here regarding bus schedules on days when activities or events occur.
---
THE MAINE ASSOCIATION FOR PUPIL TRANSPORTATION ASKS YOU TO JOIN FORCES TO PROTECT OUR STUDENTS
PARENTS:
Dress students in bright, easily seen clothing.
Warm clothing is certainly necessary but should not obstruct their vision.
Equip students with backpacks or book bags so students do not endanger themselves recovering dropped items.
Students should be at the bus stop a few minutes before the bus arrives but not more than five minutes before.
Remind students of their responsibility for proper behavior on the bus so that the driver will not be distracted.
STUDENTS:
Do not push or shove while getting on or off the bus.
Use your book bag to carry all of your belongings.
When crossing the road, cross at least ten feet in front of the bus. Wait for the bus driver's signal before crossing the road.
Always check for traffic yourself before crossing the road.
Walk directly away from the bus when you get off.
Never walk alongside the bus or hang onto the bus when it is moving.
If you drop something tell an adult.
BUS DRIVERS:
Count the students before and after they get off the bus. Double check the side and front crossover mirrors for "all clear" before moving the bus.
If distracted by actions on the bus, check the mirrors again before moving the bus.
Constantly watch and listen for anyone trying to alert you to a hazard.
Report students who are disruptive to school officials.
Notify school officials when students do not comply with safety rules.