RSU #2 – Dresden Elementary School 2018 – 2019 Bus Runs Cyr Bus Co.: Jon Lambert 620-8555 These are tentative times and students are encouraged to be at the bus stop 5-10 minutes earlier. All buses arrive at Dresden Elementary School at approximately 7:15 a.m. All buses depart Dresden Elementary School at 7:20 a.m. All buses arrive at...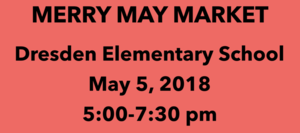 MERRY MAY MARKET Dresden Elementary School May 5, 2018 5:00-7:30 pm Join us for some spring fun!
Looking for a creative way to spend some quality time with your child? Come have some fun cooking with us and we will show you how to have fun in the kitchen. We will cover the importance of sanitation, smart snacks, and easy, nutritious breakfast ideas etc. Class would be a total of 4 evenings for an hour or so, and it is intended for Elementary age children and...